The Marisol Nichols Podcast is a thrilling new true crime show that follows the daring, real-life exploits of actress Marisol Nichols. Follow as she operates, off-screen, as a licensed informant and contracted undercover operative, assisting global law enforcement in infiltrating the $150 billion per year human trafficking industry.
Marisol Nichols (RIVERDALE's Hermione Lodge) has spent years working undercover without her Hollywood pals knowing much about her adventures away from TV & Film production sets.
This no-holds-barred program takes you behind the scenes inside secret operations to break up child sex trafficking rings, explores how she applies her acting talent to establish a mindset before immersing herself in these dangerous situations. Marisol analyzes the latest technologies used by human traffickers to lure their victims, reveals the tactics used by the good guys to fight back, and provides an up-close look at the global battle to preserve innocence.
You'll hear from Marisol's Hollywood friends who have joined her in the fight and listen to insights from experts on the front lines to learn about the challenges, solutions, failures, and triumphs she encounters on this emotional journey. Don't be surprised if you are inspired to #JoinTheFight.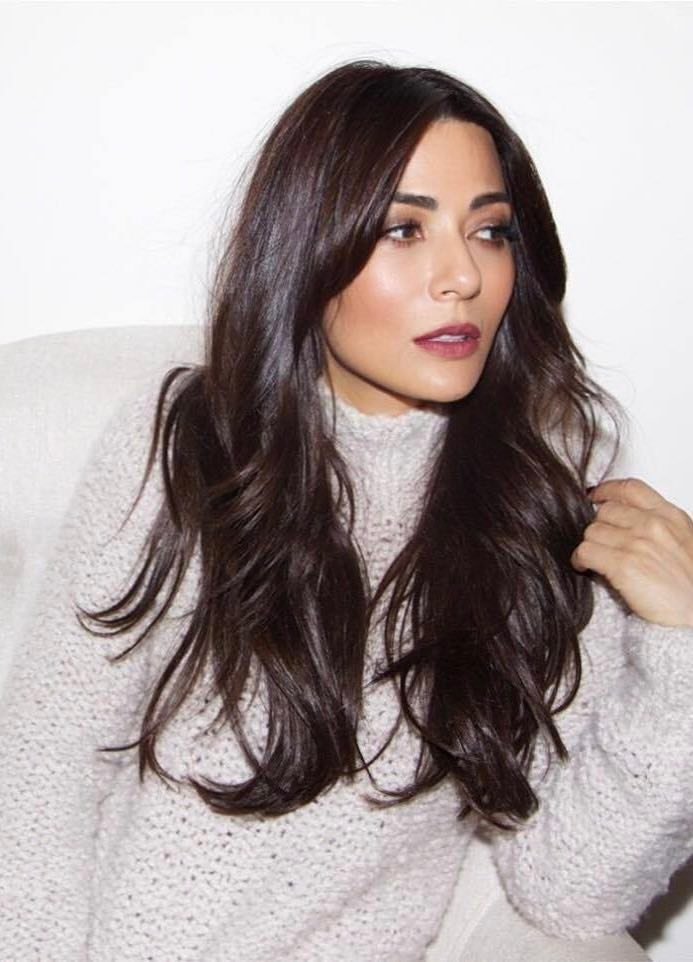 Executive Producer & Host, Marisol Nichols Podcast
Founder & CEO, Slavery Free World
Dubbed the "Hollywood Vigilante" by Marie Claire Magazine, Marisol Nichols is an actor and humanitarian who founded Foundation for a Slavery Free World, a non-profit organization dedicated to combatting human trafficking.
Balancing her work on screen with her humanitarian efforts, she frequently collaborates with organizations working closely with law enforcement and government agencies to rescue women & children being trafficked from their abusers. As a contracted undercover operative and a deputized legal informant both in the U.S. and abroad, Marisol has had the privilege to take part in numerous sex-sting operations that have led to the arrest of dozens of child predators and liberating numerous women and children.
On the small screen, Marisol currently stars as Hermione Lodge on the highly rated, RIVERDALE which has won numerous People's Choice, MTV, and 19 Teen Choice Awards. Her most critically acclaimed role was playing opposite Kiefer Sutherland in 24. She was last seen on the big screen starring opposite Chris Rock and Samuel L. Jackson in the Lions Gate film SPIRAL: FROM THE BOOK OF SAW and can be seen in the motion picture comedy, THE VALET opposite Eugenio Derbez.
In 2017, Marisol was recognized by President Barack Obama with the President's Distinguished Volunteer Service Award for her work in human rights and for her service to the community.
I'm often asked why would I put myself in harm's way, going undercover for the past 7 years to take down child predators and help liberate trafficking victims held against their will? My response is always the same: I do it because I can.
As an actor, I'm fortunate to have worked on several hit TV & Film projects, and I feel it's my honor and privilege to use my acting skills to help put an end to the nightmares that these women & children endure. As someone who's been given so much love by so many fans, it is my duty to pay it forward and give a voice to those unheard. I live by the belief that Human Rights abuses in all forms are simply not acceptable and should never be tolerated. The fact that I was given the chance to make a difference is humbling, and I am eternally grateful.
I'm well aware that I'm one of the lucky ones, and as a victim of abuse, I want to use my story and this podcast as a platform to educate and protect our youth and provide a voice to victims & survivors. My goal is for you to be inspired and empowered so that you too can join me and help make a difference.
Thank you for listening and thank you for supporting the fight to end human trafficking.
With sincere gratitude,
Marisol Nichols
#JoinTheFight #EndHumanTrafficking #PayItForward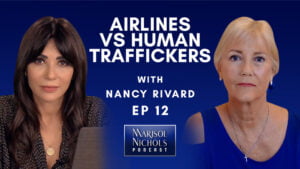 Nancy Rivard, founder & CEO of Airline Ambassadors, was a flight attendant for more than a decade with American Airlines. She never imagined she would become a champion on the battlefront against human trafficking, but then one day her intuition told her that something wasn't right, and she knew she had to act.
Watch now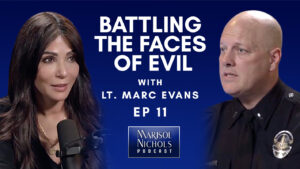 Our guest this week is Lieutenant Marc Evans, Officer in Charge of Human Trafficking, Vice, and Counterterrosism for the Los Angeles Police Department (LAPD). He is a 28 year veteran of the LAPD where he created the Human Trafficking Division to help combat the problem and has seen a significant increase in trafficking as well as the prosecution of human trafficking cases.
Watch now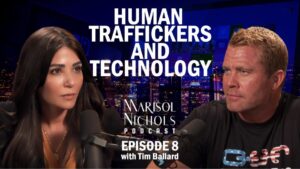 Tim Ballard, the founder of Operation Underground Railroad, returns to the studio for Episode #8 to discuss the tools and strategies that human traffickers and predators use to groom and take advantage of minors. You won't want to miss this episode if you or someone you know have kids who use social media or play games online.
Watch now