When director Darren Lynn Bousman was brought onboard to helm "Spiral: From the Book of Saw", the new ninth entry of the "Saw" franchise, there was one name on the production list that threw him for a loop — Chris Rock. Surely, it couldn't be funnyman Chris Rock from all those comedy films, could it? Turns out, it was.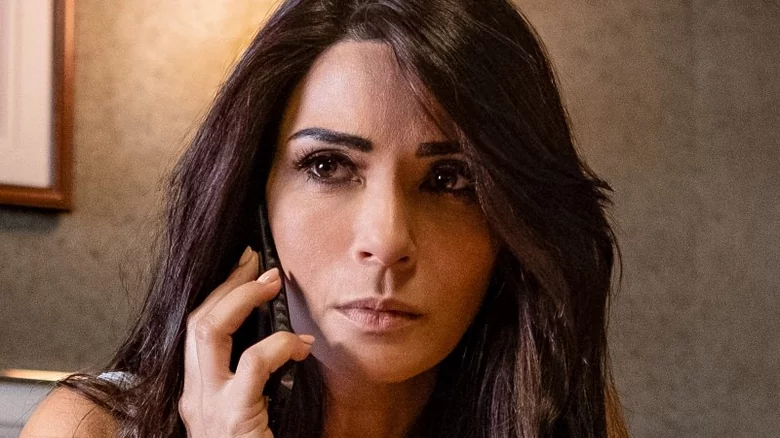 Bousman wasn't the only one in disbelief either. His co-star, Marisol Nichols, best known for her role as Hermione Lodge on "Riverdale," wasn't exactly expecting to work with the comedian on a horror film, either.
In an exclusive interview with Looper, Nichols said, "My manager told me that Chris Rock was executive producing the next movie in the 'Saw' franchise, that he was a huge fan, and that he was taking over this new installment. I was like, 'That's the coolest thing ever. What a great idea.' So I was already just intrigued by that alone. Then I heard that he was bringing Sam Jackson along for the ride, which is insane. So I was in — I was like, this is great."
Rock took the role very seriously, but that doesn't mean he ignored the opportunity to tickle the funny bones of everyone on the crew. According to Nichols, it sounds like it was, quite often, a standup act behind the scenes — and that Rock never hesitated to improvise the script's dialogue when he saw fit.
"I think there was one moment that was my favorite. My first day shooting, I think it was when I'm screaming at him and calling him out," reflects Nichols as she shares one her favorite on-set moments with Rock. "We did that scene for hours and hours, and I didn't really know him that well. It was really fun, kind of getting to know him behind the scenes because we'd cut and then he'd tell some joke or he just kind of thinks funny, which I love, admire and respect, but it was also a front row seat to a Chris Rock concert. It was fantastic."
When "Spiral" eventually comes out on Blu-ray and DVD, Nichols thinks we might be in for a plethora of outtakes, bloopers, and alternate scenes. That's because whenever the director yelled "Action!" for a second take, Rock would often let loose and riff all-new dialogue.
"There's one for sure that I know, I think it was either me or Chris forgot to move his chair back to run to look at the package or something, and we didn't move it," says Nichols, sharing her favorite blooper. "So I went behind him and just grabbed it and pulled it. And I knew it was never going to work, but it was funny on camera. There's other things where you mess up or Chris was doing a whole riff at me. If you remember in the movie he says, 'Do I look like a Jamaican nanny?' Where there were like ten different versions of him talking back to me. And we filmed all of them, so I'm assuming on the blooper reel we'll show all of those because they were hilarious."
"Spiral: From the Book of Saw" is currently in theaters. 
Link to original article from Gil Macias, Looper