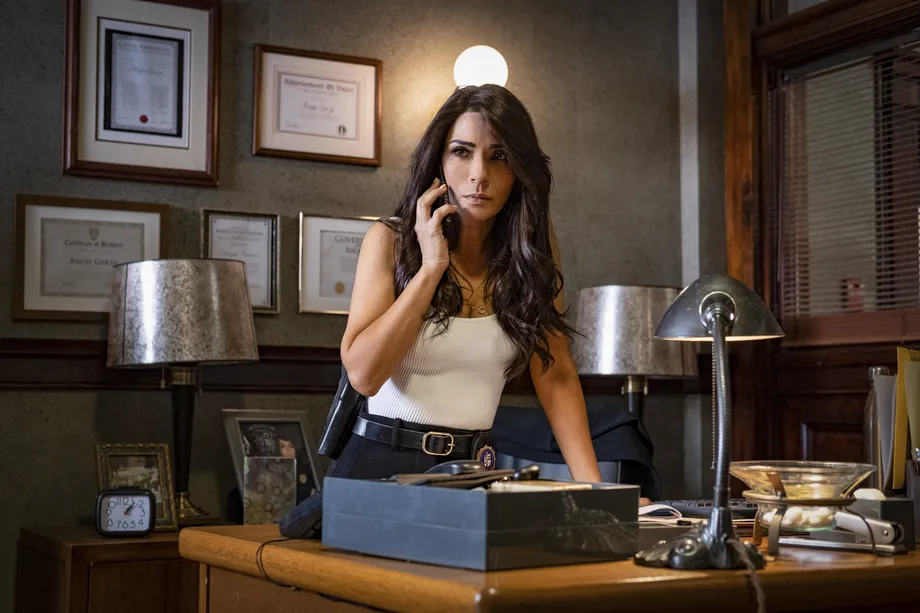 The Chicago-born actor's first scary movie is the ninth installment of the series. And she spends some 'terrifying' time in one of the franchise's trademark death traps.
Marisol Nichols' manager sent her the description of a role of a police captain in the latest "Saw" film and told her, "I think I'm gonna get you this role."
The role of Capt. Angie Garza was written for a man but eventually went to Nichols, a native of Rogers Park.
Best known for her roles on Fox's "24" as Nadia Yassir and The CW's "Riverdale" as Hermione Lodge, the longtime fan of scary movies now is part of an enduring and notorious horror franchise.
In "Spiral: From the Book of Saw" — which is finally in theaters after being delayed for a year due to the coronavirus pandemic — Jigsaw's bloody legacy is revived by a copycat killer seeking revenge on the dirtiest cops in the South Metro Police Department.
Living in the shadows of his father, the veteran police chief (Samuel L. Jackson), Detective Zeke Banks (Chris Rock) finds himself in the middle of a gruesome series of killings that reminds the duo of what it was like taking down John Kramer, a.k.a. Jigsaw. Garza puts the Bankses on the case as cops are beginning to turn up dead at the hands of the mysterious killer.
Thanks to Rock, who pitched the idea for the film to the Lionsgate studio, the movie is sprinkled with one-liners and plenty of Jackson cussing out his castmates. The comedian has called the movie "the bloodiest 'Law and Order' you've ever seen."
The copycat killer known as Spiral uses plenty of death traps in scenes that might remind "Saw" fans of the ways Jigsaw's past victims have died. Nichols' character eventually finds herself in one of the traps.
"It's terrifying," Nichols said of filming that scene. "It's a really scary thing.
"I wanted to stay true to the character and how she would react to being in this trap, and I knew she'd be pretty pissed off. She wouldn't be scared. She would be pissed off. That combination of pain and anger that this is happening, and this a—— has caught her. I wanted that. I wanted to do it from a point of strength, not just another female victim. Haven't we seen enough of that?"
Nichols graduated from Hinsdale Central High School and went on to study at the College of DuPage before moving to Los Angeles in 1995 to pursue acting. Her first acting gig was in a play at the College of DuPage. She tried out on a whim and wound up receiving one of the lead roles and falling in love with acting.
She said her roles on "24" and "Law and Order: SVU" helped prepare her to play the police captain in "Spiral," but nothing prepared her more than her real-life undercover work exposing real-life sexual predators. After learning about child sex trafficking in 2012, Nichols began working with law enforcement agencies to impersonate people on the Internet and stop predators from buying sex with children.
"Whether I'm playing a mom selling her kids on the Internet or if I'm playing a little kid … it's something that I a.) believe in passionately and b.) I've considered quitting acting just to do that full time because that's what I care about," she said.
Nichols said she's talking with Sony about a TV series that would focus on her undercover work.
She's also set to star in a remake of the 2006 French comedy "The Valet" with Eugenio Derbez.
Lionsgate decided not to release "Spiral" online, as many other movies have been during the pandemic, instead holding off until people returned to theaters.
Nichols said she planned to sneak into a theater this weekend to watch the movie with an audience.
"There's certain films that should be seen in a theater and not on a computer or a small screen," she said. "And this is one of them."
Source: Ambar Colón, Chicago Sun Times | www.chicago.suntimes.com