Marisol Nichols is a multifaceted person – personally, she's a mom to a 13-year-old teen girl. Professionally, she's a star on the hit CW series 'Riverdale,' she's starring in the new thriller movie 'Spiral' alongside Chris Rock and Samuel L. Jackson, which is coming out next week.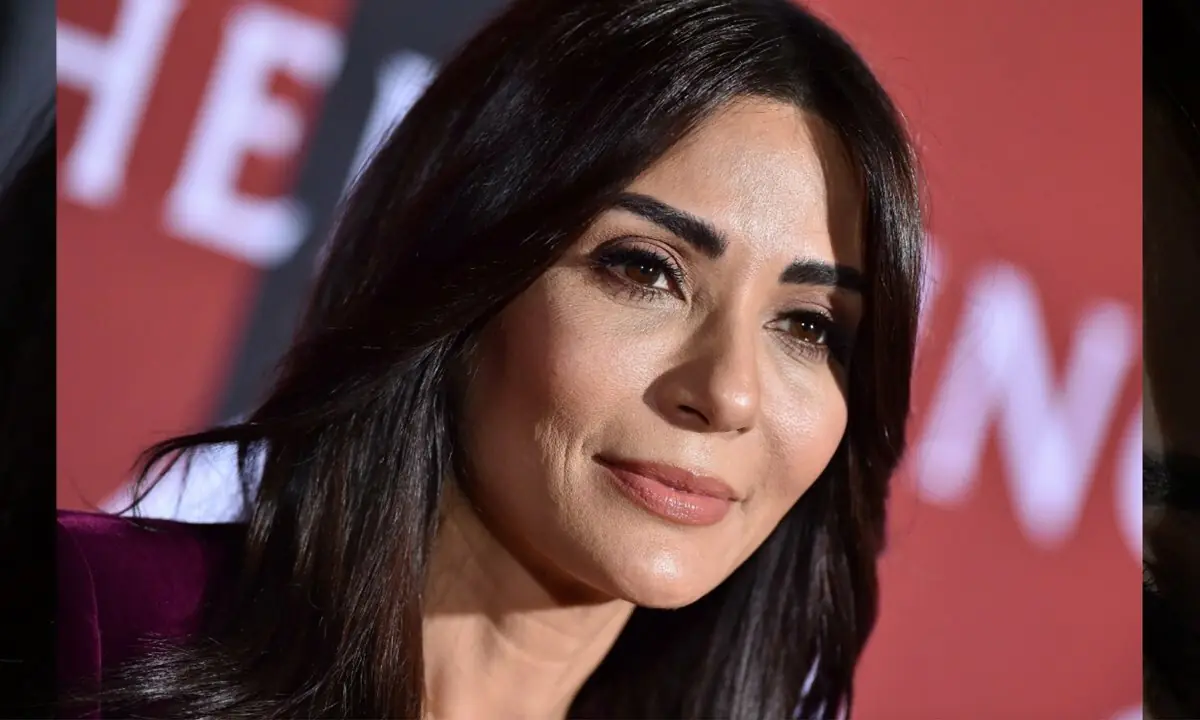 In addition to all of that, the 47-year-old has been working undercover alongside the FBI to take down sex traffickers and has even started her own non-profit organization called Foundation for a Slavery Free World, where she is working to eradicate all of forms of modern day slavery. Nichols' undercover efforts have gained so much attention that soon there is going to be a scripted show about it. Talk about a real life superhero!
HOLA! USA had the opportunity to chat with Nichols about her experience working on 'Riverdale' during quarantine, what her culture means to her, and the nitty gritty details of the work she has been doing with her non-profit.
How have you been holding up during this bizarre time?
Everything is good. It's surprising, obviously it's heartbreaking all that's happening on a global basis. It's really scary, nerve wrecking and a bunch of other emotions all at the same time but I think I've sort of made the most of it during this time. I started getting busy, creative, and inventive. Like okay good, what else can I do? I have all of these projects that are in my back pocket that I've been wanting to do so I'm using this time to do that to the best of my ability and I got the opportunity to spend a lot of time with my daughter and she's now at boarding school. I made the decision to send her since schools were not opening anytime soon so I was like, that's it a year on Zoom is good, let's go. So she went with her best friend and she's loving it. Everything is pretty good.
What kind of impact has your culture had on you growing up?
It's funny because growing up in Chicago, my mom didn't speak English very well so she never spoke Spanish to us. My stepdad who raised me was a regular white guy so every year we would go and do the trek all the way down to the border of Texas and Mexico where my mom's family was. And it was probably my happiest time growing up because everyone looked like me, everyone could say 'Marisol' and pronounce my name right and I got to see cousins upon cousins upon cousins, Latinas are big families. That was the only time I got to be around my culture and I really cherished it. I think even at one point I asked if I could just stay because I didn't want to go home because it was a really warm, caring, and passionate culture that I didn't see too much growing up in the suburbs of Chicago.
'Riverdale' is one of the most popular shows on TV right now! How was filming the show in the midst of quarantine?
I think I have it fairly easy to actually do an episode or two in a row in Canada and then come back to LA because I'm doing other projects and stuff which has been great. I think the hardest part is the constant quarantine. I traveled so much, I think I quarantined more than anybody I know, all together it was about 10 weeks total. I would say that's the hardest part, but that's the selfish part of me. The other part of me is like I'm so happy that we found a way to get everyone working again because when everything shut down all I could think was I'm close with certain crew members, we all have families, and people to feed. How does the work? And I didn't exactly know what Canada was going to do to help. America sort of had a plan but I'm so glad that we were able to find a way to safely work and do what we love. I'm grateful for that. We take COVID tests every single day, it's really easy and it takes about 30 seconds that way you're tracking everything and we sort of have a hold on those things.
In addition to 'Riverdale,' you are starring in the new thriller film, 'Spiral' which is coming out this month. What was the experience like making this film?
I'm a huge fan of thriller films, which is ironic because I've never actually done one! This was a big giant significant fun amazing role I got to sink my teeth into and I loved it. I'm playing chief of police, a Latina! I mean come on, I love that! Working obviously with Chris [Rock] was phenomenal . I know Chris obviously from his comedy but I never met him before but I've been a fan of his for 20 years, at least. So to see him sort of branching into these ore serious roles and taking it seriously and caring at the end of the day it's an actor to an actor, a performer to a performer thinking how can we make this scene great? What can we do to make this film great? That collaboration and working with someone at his level was so great. And we laughed and told jokes in between takes. Obviously Max Minghella I've been a huge fan of because I'm obsessed with 'Handmaid's Tale' so I was so excited that he was in it. And come on the king – Samuel L. Jackson it was hard to keep my cool. I was like wow this is really, really awesome.
After this experience, do you see yourself wanting to be in more thriller type films?
It depends on the thriller and script. When I read the script, it read like 'Se7en' which I loved. It was a good script, it wasn't a girl in her underwear running and screaming. It had some substance and depth. It had a story that wanted to find out what happened so for that reason, I would gladly be on board for anything as long as the script and storyline is there. The other fun part is that my role was originally written for a man. So I loved that I am doing it, it made me so happy!
I want to switch gears and learn more about your organization Foundation for a Slavery Free World. Can you tell me a bit about that?
I mean it's a very dark subject and it's something that's going on on a global basis. It's so dark and so evil. Not a lot of people want to look at that, because it's very understandably hard to swallow and hard to picture in your mind. Unfortunately I just couldn't turn my mind off the more I learned about it and the stories that I heard, I couldn't sleep as the mom of a daughter, as a female, and as a human being. I believe knowledge is power so I started digging and digging and meeting with so many organizations that tackle this from different areas including law enforcement and state departments. And congressman and senators all the way to the executive branch at the White House under Barack Obama and I just chased it and pulled the string until I knew so much about it that I could figure out a way to present this to the public in a way that wouldn't overwhelm them or terrify them so much that they never wanted to hear more, that was my biggest goal. So I started doing events and I would invite my different co-stars that I've worked with and different celebrities and one thing led to another and then I was forming my own foundation.
You also go undercover with the FBI, correct?
Yes, I was asked if I wanted to do an ops [operation.] The Navy SEALS came to my house and I went through hand combat training, hostage training, self-defense training, I then partnered with law enforcement and a crash course in law enforcement training. I realized that I'm really good at this. We're able to capture more predators than without me there because not all law enforcement are actors and actresses and we're able to infiltrate places where these guys could smell a cop 10 miles away. I'm not a cop, I don't look like an undercover agent. It works and every time I sort of do this, I scare the crap out of myself when I put myself in these situations. Every time we rescue someone, every time we jail a predator, it's all worth it.
You're going to be producing a show based on these undercover efforts, how did that happen?
The new show is scripted so it's not a documentary. I never thought that my two careers would sort of cross. Sony jumped on board and said we want to make a TV show based on your life as an actress and your life as an undercover agent. The best way to raise awareness and educate people is through story. It needs to be a story and scripted. I need to be playing a different character but it's based on reality and my life.
Link to original article from Fabiana Buontempo, HOLA!